As a country of 1.2 billion people undergoes massive transformation in the way people pay, an organization central to this change is The National Payments Corporation (NPCI) . NPCI is a body promoted by RBI to play a pioneer role in creating the infrastructure and platforms to enable retail payments in India, and manages core payment systems including the instant 24*7 interbank funds transfer service IMPS, the Aadhaar Enabled Payment System (AEPS) and RuPay India's important new card payment scheme.
I caught up with Sumeet Kohli of the NPCI to discuss some of the recent changes. In this interview we discuss a bit about the payments scene in India and in particular how people are changing the way they pay bills, as this is a very important area that is set to transform in the near future.
Sumeet, thanks for your time today. Could we start with a bit of background about NPCI and your role there?

At NPCI, we manage multiple aspects of payments in digital format. The vision of NPCI is to provide anytime, anywhere payment services which are simple, easy to use, safe, and secure, fast and also cost effective. We have multiple payments products.
To begin with RuPay is a new card payment scheme launched to fulfil RBI's vision to offer a domestic, open-loop, multilateral system. It will allow all Indian banks and financial institutions in India to participate in electronic payments.
Secondly Immediate Payment Service (IMPS) offers an instant, 24X7, interbank electronic fund service through the internet.
Also, the ACH is launched in India under the name National Automated Clearing House for banks, financial institutions, corporates and the government. It is a web based solution to facilitate interbank, high volume, electronic transactions which are repetitive and periodic in nature.
Inter-bank ATM transactions are managed through our National Financial switch (NFS) and we have host of other products such as the Cheque Truncation system, Aadhaar Payment bridge system and Aadhaar enabled payment system.
My role is in the business development department. I am in charge of national accounts and I engage with our customers which include corporate clients, government institutions, banks spread across India. We assist them to get on-boarded on the NPCI platform, so as to avail of our products and services.
Today the majority of banks in India are already on our platform and this helps them to reach out to end customers with a variety of payment offerings, helping them transact affordably & easily.
Could you please share about some of the opportunities and challenges you see, from your ringside view of developments in the important Indian market?
Regarding the Indian payments landscape, the buzzword is "pro-digital".
There is a paradigm shift in how people are transacting. Interesting with over 900+ million mobile phone subscribers in the country and the advent of new age technology such as 3G and now 4G, mobile internet has reached the nooks and corners of the country.
It is a powerful tool that helps to generate traffic online and move offline payments online. Regarding utility payments that form the majority of retail payments today, over 80% are still cash, COD or cheque based. Ecommerce merchants and corporates are promoting online payment services in order to get consumers to adopt. They are offered monetary benefits, schemes and loyalty benefits to get them to make payments online. So this is creating a pull and a monetary incentive, apart from the convenience it offers.
The reason providers can pass on benefits is that offline collection is expensive in countries like India and it also delays the entire settlement cycle.
Promotions do get people online, no doubt about that. However there is a long way to go until we become completely cashless. These initiatives and the approach adopted by the government with the direct benefit transfer scheme and RBI's vision and efforts are definitely driving India towards a less-cash society.
I saw final guidelines have recently been released by RBI for Bharat Bill Payment System (BBPS). Could you tell us a bit about this?
Yes, as per the RBI guidelines NPCI will function as the authorized Bharat Bill Payment Central Unit (BBPCU) to set the standards for BBPS processes which need to be adhered to by all operating units under the system. NPCI, as the BBPCU, will also undertake clearing and settlement activities related to the BBPS as outlined in the RBI guidelines therefore, a need for an integrated bill payment system in the country that offers interoperable and accessible bill payment services to customers through a network of agents, allows multiple payment modes, and provides instant confirmation of payment. The bill payment system should also serve as an efficient, cost effective alternative to the existing systems, thus, setting the standards for bill payments in the country, and enhance consumer confidence and experience.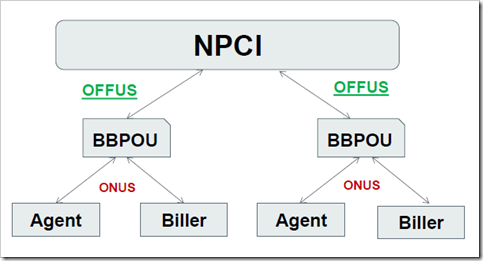 The BBPS will consist of two types of entities carrying out distinct functions:
(i) Bharat Bill Payment Central Unit (BBPCU) will be the single authorized entity operating the BBPS. The BBPCU will set necessary operational, technical and business standards for the entire system and its participants, and also undertake clearing and settlement activities.
(ii) Bharat Bill Payment Operating Units (BBPOUs) will be the authorised operational units, working in adherence to the standards set by the BBPCU. The tiered structure could be further strengthened through an effective agent network/s of the BBPOUs.
While there will be a single BBPCU, there could be multiple BBPOUs operating under the BBPS.
What do you see as the biggest challenge to overcome to get this off the ground?
This is a vast ocean, with the involvement of multiple players such as the NPCI, banks, aggregators, technology vendors, service providers and billers. This is across locations and various channels which must support online bill payments as well as offline. Also there are on-us and off-us use cases and it will require huge efforts to integrate and operationalize everything. It will also require focussed marketing efforts so as to make the public aware of what's available and the benefits of using the new services.
As more mobile phones get linked to bank accounts I expect services such as this will grow increasingly popular?
Sure. In India we have over 900 million mobile phones and thanks to the PMJDY scheme (the Government's push for financial inclusion), bank account penetration in India increased from 35% to 53% between 2011 and 2014. NPCI sees a possibility to get many more people to link their phones to bank accounts. It will take some time but we are definitely seeing volumes going up. As the mobile phone network grows in each corner of the country this is penetrating into remote areas and into rural India.
One of NPCI's product IMPS has now become channel agnostic and hence has been renamed to "Immediate Payment Service" instead of "Interbank Mobile Payment Service".
That is the fundamental reason we set Shift Though up as "Digital Money" rather than "Mobile Money", and it is how you have grown, leveraging mobile, but not just stopping at mobile phones.
Exactly, today banks offer IMPS as an instant mode for fund transfer. There is no need for customers to check if the time of transaction is within banking hours to pay for their bills or make purchases or simple transfer money. In the manual process, if the bank settlement cycle is complete you may have to wait for next cycle or may be try alternative offline payment mode. With IMPS being available 24*7*365 one doesn't have to wait. You can go right ahead and complete your bill payment in real time, from the comfort of your home.
How do you see it going forward? In our report on India we classify it as one of the most complex markets in the world. Do you see India to be at an inflection point, about to take off?
Absolutely, both India & the Indian economy are at an inflection point of sorts, both in terms of moving to a higher growth trajectory and with respect to the shift to a sustained low inflation phase.
The main driver for any new innovation in payments is customer needs and customer behaviour which drives service offerings. Today Indian customers are set to have so many different options to support how they may want to pay.
Some customers prefer to do only mobile shopping or some do POS transactions at merchant terminals or in malls. Others do online window shopping yet make payments offline and vice versa. These are interesting dynamics.
It is the right time to be here, as customers are adapting their behaviour to new, easy and convenient options. Even in offline mode, there are so many VAS options provided like door-to-door services. For payment of bills there would be service providers whose agents will come to your door to swipe your card, collect cash/cheque and enable your payments. So we realise we must take all this into account as our payment systems evolve!
Sumeet, thanks for sharing your thoughts at this exciting time of huge change and all the best for your important work at NPCI where you play a critical role in making this happen!
---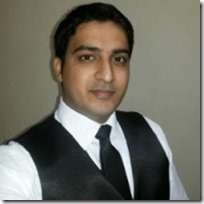 Sumeet Kohli is Manager, Business Development at NPCI, India. Sumeet handles Business Development & its strategic roles for enabling Payments for National Key Accounts across Industry verticals like Banks, Insurance & Mutual Fund companies, NBFCs, Utility Companies, Telecom, Trust, NGOs, E-commerce merchants and Corporates.
His overall experience covers various payment modes including NACH, ECS, Online Payment Gateway, Direct debit, IMPS, Mobile Payments, IVRS, CTS, EBPP, NEFT/RTGS, Cheque & Cash Management.
---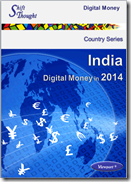 Shift Thought's recent 400 page report, "Digital Money in India 2014" covers all this and more. To learn more about our report just drop us a line at contact@shiftthought.com.