Today as fitbit prepares to float on the New York Stock exchange, after which it could reportedly be worth an estimated $4.1bn, I thought I'd reflect on the further convergence happening between the health and wealth markets and the need for greater wisdom that these trends entail.
I first started monitoring the convergence of Health and Wealth back in 2010, when we added Mobile Health to our Digital Money knowledge fabric, as the two industries showed important signs of pulling together. This year an estimated 500 million people could be using smartphone apps that are health related.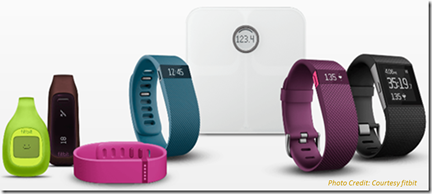 Of course health-related functionality need not be delivered on a smartphone alone. As fitbit goes public, the wearables market has grown by 200% from last year and is currently an area that connects people of all ages and income groups. The recent darling of this industry is of course the Apple Watch, which brings together health and wealth applications with a potential and scale that I don't recall seeing ever before. Convergence is the name of the game, as it has been for the last decade and more, as multiple functionalities converge around connected and increasingly mobile devices and the Internet of Things becomes a reality.
As regards Wealth, another thing that connects all of us is the need to save and spend, an area we at Shift Thought have scoped out at great depth under the term "Digital Money", a tapestry that connects up digital banking, digital wallets, digital networks, digital payments, digital services and digital technologies. As 15 billion connected devices grow to 50 billion over the next 5 years this brings a host of new opportunities, but also risks. The cyber security potential data loss could jump from $113 billion to $3 trillion by 2019, according to a report just out.
However making sense of transactions from different areas relating to Health and Wealth works only when it is possible to link it all in Big Data and create profiles, to piece together data points so as to put knowledge to use in marketing and offer creation. In 2011, the Google Wallet launched with a radically new business model that leveraged customer data to create appropriate offers that could be delivered to our mobile devices in real time, rather than relying on charges to customers or even fees to merchants. As the Great Recession continues to bite, trading of data for goods and services has seemed to be an increasingly acceptable thing to do for consumers, especially Millenials.
I start to wonder about all the implications this could have. Can we be complacent about giving out our mobile numbers and email addresses as we've done in the past? A mobile number is a well-respected "handle" for communication today, and both the joys and consequences of this are generally speaking properly appreciated by people of all ages. However there could be unintended consequences that could rise from the use of our mobile number as a handle to financial services, although I hasten to add that this in no way detracts from the important role I appreciate it must continue to play in this.
Our mobile number continues to become increasingly important in our lives today, and also starts to become a surrogate for use with regards to financial services. It seems to me that this piece of information about us could become as precious, if not more, than our bank account number. Should we then get more concerned about who knows this commonly shared detail about each of us? And of course, our email addresses are also highly important "hooks" to us that raise similar questions.
Both these forms of identification have captured the imagination when it comes to reducing friction in payments. A payments expert I was recently speaking to mentioned that after the introduction of IBAN, it's even harder to remember our bank account, so people greatly welcome sending money to a mobile number. This ultimately boils down to sending money to a name in the phone book, that we believe is associated with the person or company associated with the money transfer or digital payment.
This for me raises the question of assumptions we make regarding data that needs to be kept secure and currently regarded as candidates for the "secure element", whether on SIM or embedded Secure Element (eSE) or on the cloud with HCE (Host Card Emulation). When we divide up "secure and inaccessible" areas on our smartphone from "accessible" areas, and design our mobile apps and functionality, we need to build in and test for additional security in all stages of the life cycle of connected bits of data. For instance, could someone substitute the mobile number of the person I know as "Mum" for that belonging to a criminal at some stage between my device and the cloud, in one of the myriads of incarnations of our now highly backed-up, transferred and accessible phone book?
The convergence that technology is making possible has wide implications and potential for Retail and Marketing, to grow more mature in their use of data about us. However this may need to be matched by greater sophistication and wisdom in the design and testing in the growing FinTech area, as well as a more integrated approach from regulators and a heightened consumer awareness that guides what we share about ourselves, at each stage and in different areas of our lives.
Charmaine Oak, Author of The Digital Money Game, co-author Virtual Currencies – From Secrecy to Safety
Want to read our books but cannot get a copy? Let us know and we will do our best to help.