Over the years, the fact that Americans had not switched to Chip and PIN impacted both US customers and the world. Now as part of a BuySecure initiative, President Barack Obama has signed an Executive Order yesterday to attempt to improve security for digital money. Implications from associated regulations and new spend must be considered to inform project priorities both in America and world-wide.
Why now?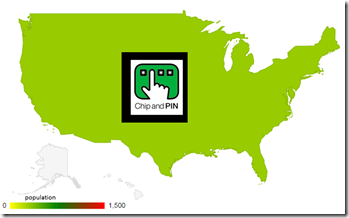 After the recent breaches there have been renewed calls for the Congress to act on Data Breach Legislation.
What remedial measures can consumers expect in case of data breach?
What steps should companies take to notify customers?
Cybersecurity Legislation is also required, to protect Federal networks and balance the need for sharing with the right for privacy and personal liberties.
What's proposed?
The President has outlined a raft of initiatives including his Cybersecurity Legislative Proposal. His executive order requires US federal government to use Chip and PIN on all its cards, and the government is to begin replacement in January 2015.
The Private sector has been commended to take steps including the following:
American Express to launch $10 m program to help in MSME POS upgrade
Home Depot to transition 85,000 POS to support Chip and PIN.
Target has completed Chip and PIN for all 1,801 stores and from 2015 will reissue over 20 million Target-brand cards, and enable PIN acceptance
Visa is to invest over $20 m to educate consumers and merchants on Chip and PIN
Walgreens has converted all 8,200 that begin C&P acceptance by 2015
Walmart's 5000 stores will have been upgraded by end of month.
Why the difference between the US and Europe?
The Economist puts forward two main reasons for America being slower to adopt EMV than Europe:
(1) During the 1990s American card companies grew better at managing POS fraud than European counterparts
However, my thoughts on this are that as Visa and Europe operate across both territories, surely learnings cross the Atlantic fairly well.
(2) Regulatory : European Card companies pay most of the cost of fraud while American ones pass off the cost to retailers and even consumers.
This may explain some of it but I think the reasons are more complex and this justifies a more detailed post that discusses the nuances of payments in the two regions. Would love to hear from experts on either side of the Atlantic, to add to the findings from own discussions with payments experts – What do you feel caused this great divide? Do add your thoughts on this in our discussion at LinkedIn.
Who benefits?
As identity theft becomes America's fastest growing crime, these moves are directed towards protecting American consumers and their financial data. However, the need to manage payments for American customers who had not yet adopted Chip and PIN has also caused problems in Europe and elsewhere around the world, where systems had to have exceptional processes to cater to less secure magstripe card payments.
The NRF, the world's largest retail trade association, applauded the announcements within the BuySecure initiative and has pledged to work closely with merchants to support this.
The announcements made yesterday and the initiatives from CFPB and across the American ecosystem are likely to increase spend in the US and could be good news for the European Security and Payments industry as well as providers around the world.
What's the knock-on impact on digital money projects underway?
Payments projects involve a long gestation period. Now changes in legislation and newly proposed payments priorities will affect spend priorities for the US as well as providers around the world.
Now that the long overdue Chip and PIN issues has been resolved, and some dent has been made on this across the major retailers in the US, we expect a lot of focus and investment can now be placed on downstream security initiatives and set the scene for innovations that can cross the major international markets.
For a full analysis of the entire background, regulations, players and the over 232 initiatives we currently monitor in the US, and how your business is likely to be affected drop us a line at contact@shiftthought.com and we'll let you know more about how you can gain instant online connected and contextual knowledge on all of this, as well as our soon to be published "Digital Money in USA 2015" Viewport.
---