As the number of registered mobile banking users in Bangladesh approach 10 million, Raihan Alhusain, Head of mCommerce Operations in Airtel Bangladesh offers his expert practitioner insight into how the mobile financial services guidelines issued two years ago support the remarkable growth in the country. He reflects on areas in which regulations could benefit from extension to support new scenarios stemming from this rapid growth.
Views specified are solely Raihan's personal views as an expert in the mobile banking sector. This interview is part of the research Shift Thought conducted in the release of our "Digital Money in Bangladesh 2014" Viewport.
Background
In September 2011 Bangladesh Bank published the Mobile Financial Services (MFS) Guidelines allowing commercial banks in Bangladesh to start bank-led mobile financial services. The guidelines describes the services that may be offered, including a broad range that are required to promote financial inclusion. Only the bank-led model is permitted. The guidelines prescribe essential governance processes including licensing, agent management, AML/KYC, education of customers and agents, building awareness of customer services, security and controls related to technology, data retention policy and reporting and more.
Q: Why is this a good time to discuss 2-year old regulations?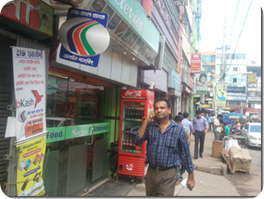 Today the number of people in Bangladesh using financial services delivered through their mobile phones is fast approaching 10 million. Since the start of these services in 2011 when DBBL started without distributors, the systems have grown more sophisticated and with greater coverage so that now all the usage scenarios and implications are of great importance across the country. The guidelines issued by Bangladesh Bank as Central Bank and main regulator of financial services underpin the delivery of services. However along with the guidelines I thought it important to discuss the practical checks and balances these new systems imply in greater detail at this juncture.
Currently banks and mobile network operators (MNOs) execute agreements to ensure network coverage and agents reach for the service. The audit and governance scope of mobile banking in Bangladesh mainly focus on adherence to the policy established by the guidelines. Additionally as practitioners we continue to learn about governance and audit and determine the best ways for responsibilities to work across partners. By reflecting on these there may be useful points for others in Bangladesh as well as for other bank-based branchless banking developments in India, Nigeria and elsewhere around the world.
Q: What is the concept of a trust account in mobile banking and why is it important?
In the bank-led model adopted in Bangladesh, banks are the custodians of funds deposited against each mobile wallet. Even though the guidelines do not include the trust account mechanism, in order to be aligned with the guidelines, funds kept in the bank must to be treated as a liability and may not be used for operational purposes. This applies to Telco-led models as well. The accounting book should clearly mention the accumulated amount through a specific general ledger code, following IFRS (International Financial reporting standards) principles. The audit scope in this aspect should include a complete checking of the trust account mechanism.
Q: What is the concept of a book balance mechanism and why is it important?
At any point of time, the relevant balance in the bank book shall be equal to the virtual balance of all registered mobile accounts shown in the system. This means at any point in time, reconciliation processes must be in place to allow the following to be checked:
Bank Balance = Channel Balance (Agent Wallet Balance+ Distributor Wallet Balance) + Bank Branch Wallet Balance (If Banks deploy their own Branch to work as channel for Mobile Banking) + ATM Wallet Balance (If Banks deploy their own ATM channel to work as channel for Mobile Banking) + Registered Customer Wallet Balance + Merchant Point Wallet Balance + Commission Wallet Balance.
If a Bank disburses commission related to mobile banking through the mobile banking platform, it must keep an equal amount of funds in the account.
All virtual points created in the economy must be backed by the balance kept in the Bank. This mechanism is very important and should be adhered by so that virtual money is not created in the economy without being backed up by physical cash in the Bank.
The audit scope of this section should involve the matching of general ledger virtual wallet balances against the bank account balances.
Q: What are some of the compliance processes and issues relating to agent and partner management?
The Cash Points/ Agents are to be selected by the bank and a list with their names and addresses must be submitted to the Department of Currency Management and Payment System (DCMPS), Bangladesh Bank. This list must be updated on a monthly basis. Banks may need to develop their own Agent Accreditation Policy for this purpose. This policy should include assessment of competence to implement and support the proposed activity, financial soundness, ability to meet commitments under adverse conditions, business reputation, security and internal control, audit coverage, reporting and monitoring environment.
Banks have to follow the full KYC policy issued by Anti Money Laundering Department (AMLD) of Bangladesh Bank for the cash points/agents/partners. Banks bear all the liabilities that arise from improper action on the part of their subsidiaries/cash points/agents/partners. Banks need to perform periodic audits of the agent locations in order to ensure proper processes are being carried out by them. Strict action should be taken by the banks against the agents for not following the processes.
The audit scope in this section should include a complete checking on the modus operandi between the banks and the agents/ partners.
Q: What are your thoughts on audit relating to transaction management?
Clear guidelines have been issued by Bangladesh Bank relating to the transaction limits as well as overall caps including limits per customer, per agent and per month. Service charges have been fixed for each transaction. Banks need to ensure that these limits and caps are built into the mobile banking platform and service charge rules are set up as per the policy. Periodic audit is needed to ensure that this continues to be properly applied.
Q: What are some of the processes that must be followed regarding KYC management?
Banks have to use the prescribed 'Know Your Customer (KYC)' format as given in the MFS guidelines. The Bank will be responsible to ensure that KYC processes implement guidelines issued by Anti Money Laundering Department of Bangladesh Bank (AMLD) for all customers and across all agents and partners. Banks need to ensure that the agents are properly trained in KYC management and also ensure that agent KYC has been checked and maintained properly while registering the agent.
The Audit Scope for KYC management should include the modus operandi of registering agents by Banks, checking of the authenticity of the documents provided while registering customers and agents and also record keeping of the documents related to KYC.
Q: How is AML compliance assured for the new branchless banking transactions?
All transactions should be monitored through an IT-based system developed by the banks. Banks shall ensure that suspected transactions can be isolated for subsequent investigation. Banks shall develop an IT based automated system to identify suspicious activity/transactions (STR/SAR) before introducing the services. Banks are expected to immediately report to Anti‐Money Laundering Department of Bangladesh Bank regarding any suspicious, unusual or doubtful transactions likely to be related to money laundering or terrorist financing activities.
A periodic audit is needed to ensure the mechanism of reporting of suspicious transactions. The audit scope in this sector includes checking of rules set in the system based reporting mechanism which should be in in line with the AML act of Bangladesh.
Q: What are some of the processes and issues expected to be followed relating to security?
Banks must follow the Guidelines on ICT Security for Scheduled Banks and Financial Institutions, 2010 issued by the Bangladesh Bank and ICT Act, 2006 to address the security issues of Mobile Financial Services which will address issues of confidentiality, integrity, authorization and non-repudiation for each transaction through the portal. Apart from the PIN, a second factor of authentication should be built‐in for additional security as chosen by the bank. A periodic audit must take place to ensure the implementation of security policy as mentioned in the guidelines.
Q: How is the customer required to be protected by the guidelines?
As per the MFS guidelines banks are held responsible for protecting consumer rights and for dispute resolution. Banks may address dispute resolution with the assistance of selected partners and agents. The Audit scope in this sector may include the checking of bank policy and turn-around time (TAT) for dispute resolution. It may also look into the proactive approach banks have taken to ensure better customer services to the customers and agents.
Q: Please share your final thoughts on governance and audit of processes relating to mobile banking
Bangladesh Mobile Banking has seen a tremendous growth in the last few months and is expected to achieve more than 15 million mobile banking accounts at the end of 2014 by reaching over 110 million cell phone users, where 60% are unbanked out of the population of 160 million.
Considering this success, growth, and expectation, in my opinion some of the gray areas that were not covered by the MFS guidelines need to be revisited. For example, both Banks and MNOs need to work together with the policy makers to set policies in regards to Branding, Platform Management and Marketing. This will set clear guidelines for everyone on the Do's and Don'ts of each sector. MNOs, who have the greatest reach and expertise on Branding and Marketing need to be able to help banks to reach the expected number of mobile banking accounts through innovative marketing strategies, branding concepts and campaigns.
Apart from this, another area which needs to be taken care of is the modus operandi related to Payment Services. Through separate permissions granted by Bangladesh Bank, most of the MNOs provide various payment services such as BillPay, Railway Ticketing using their own platform. They have also integrated their platforms with those of the banks to offer various financial services. A common guideline needs to be issued and added to the MFS guidelines to clearly mention the modus operandi and policy with regards to these kinds of services.
In conclusion, I must say that for MFS in Bangladesh the sky is the limit. I am sure Bangladesh will be an example for the whole world in the setting up successful mobile financial services and also in establishing our main objective of banking the unbanked through mobile financial services. Just imagine what we can already do today in Bangladesh using mobile banking. We can pay our electricity, gas and water bills, buy railway tickets, send money to loved ones, receive salary, cash-out through ATMs and designated outlets, top up mobiles and more. Kudos to the banks, MNOs and the policy makers, Great achievement indeed!!!!
About the Author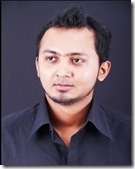 Ruhullah Raihan Alhusain is a professional with over 9 years of experience in Mobile Banking. He graduated from the University of Texas at Arlington with an Honors Bachelor in Business Administration. He started his career in mCommerce in Bangladesh with Grameenphone Ltd., a Telenor ASA. As Head of mCommerce Operations at Airtel Bangladesh Raihan continues to passionately build and launch specialised products in co-operation with DBBL. Recent projects include micro credit disbursement through mobile banking, airtime sales proceeds collection, mobile banking through modern trade such as ACI Swapno and mobile top-up with bKash.