Today is an important day for Malaysians, marking the creation of the Federation of Malaya back in 1957. Six years later, on this same day, North Borneo and Singapore would gain their freedom, leading to an Independent Malaysia on 16th September 1963. I therefore thought it a good time to reflect on how value transfer changed over time, to support the aspirations of its people. Life in this vibrant region dates back over 1.83 million years. As in other parts of the world barter prevailed, but as the southwest monsoon created important trade routes for the Archipelago, linking India and Arab lands of the West with China, barter and cowries soon gave way to the use of gold dust, silver and tin as payment.
Things changed soon after, with conversion to Islam in the 14th century. By the 15th century numerous states were issuing their own coins, generally conforming to Islamic standards. Thus the history of money for the people of what would come to be known as Malaysia and Singapore grew in sophistication centuries ago, with the octagonal gold kupangs, tin jokohs, silver tangas and other exotic, beautifully crafted coins.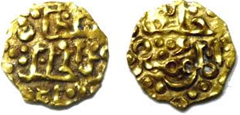 Malaysia
Coins with "Malaysia" on them first made their appearance only in 1967. The smaller denomination sen coins (1,5,10, 20) were followed by the 50 sens, all featuring the parliament building and crescent and star emblem.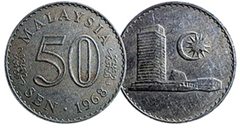 The 1 Ringgit coin was issued two years later, followed by the 5 Ringgitt coin in 1971, both made of copper-nickel. The term "ringgit" actually means "jagged", and was probably inspired by the serrated edges of Spanish dollars that were in use during the Portugese colonial era. Sens and Ringgitts (100 sens) replaced the dollars and cents that previously carried images of Victoria in 1845 and George VI in 1939 – The new coins reflected the ambition and hope of new beginnings.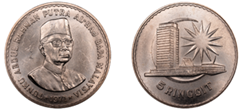 Singapore
August 1965 also marks Singapore's independence and by 1967 Singaporeans were using their own coinage, with the 1 cent and the $1 carrying an image of their mythical beast, the Merlion.
On the tenth anniversary of Singapore a bright new silver $10 coin bore the triumphant image of a ship, indicating the importance of the country to world trade.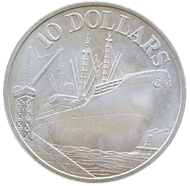 South-East Asia
As the "centre of gravity" shifts towards Asia, South-East Asia continues to build thriving new communities and a unique culture. A bright new 5-dollar coin commemorates South-East Asia's 4-yearly Games where Malaysia, Singapore, Indonesia and the Philippines participate.
Today both Singapore and Malaysia have a critical role to play in Southeast Asia, Asia and the world. Both are at the forefront of money going digital at the heart of Asia and are important Islamic banking centres. Their progress is synonymous with our progress in our complex, intertwined global economy. So we take time off today to wish our friends in each country congratulations and the very best for a bright and prosperous future, filled not just with money but with innovation, health and happiness.
=