In honour of Canada Day today, I fell to thinking about how mobile payments may be able to help folk lead happier lives, for instance by providing more opportunities to enjoy things exactly the way we like them, through the great things technology can now do for us.
Chances are if you live in Canada you will probably already be waving you card to pay today, as I do here in the UK. Thanks to debit payment network Interac having set a 2012 deadline for adoption of Chip-and-PIN for merchant liability shift, Canada pulled way ahead of the US. By February 2014 over 75% of major retailers already accepted contactless payments, with just 2% of retailers doing so in the US, leading Ben Myers to argue Why Apple Pay Should Have Launched in Canada First.
You are probably less likely to pay using your mobile phone though from what I hear consumers already do so at McDonalds, Loblaws, Starbucks and others. Now with the re-launch of Suretap mobile wallet a few days ago, use will hopefully broaden, as the ecosystem includes 5 mobile operators, 38 credit cards and 30 gift cards, with support to NFC as well as barcodes. Recently Humza Teherany wrote an interesting post on the status of mobile payments in Canada.
So the question is will Canadians be tempted to pay with their mobile phones at last? I believe this depends on how the services are positioned to help the merchants and consumers. Being a foodie, here is an example that appeals to me, to speculate same time next year how things might look, if all goes well.
As we all want what we can't have, it caught my eye that Burger's Priest has a special, succulent offer just for Canada Day today. It is a surf & turf Confederation burger, with all the good things I associate with Canada: topped with Ontario-farmed bacon, Nova Scotia lobster tail, and Quebec maple syrup.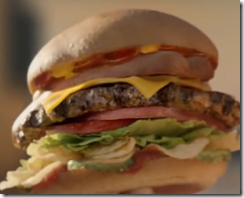 But what if you preferred just the surf or just the turf? Or more importantly, what if you'd love a burger but are on a low salt, low fat or gluten free diet? One of the huge problems the food industry has is catering to the different preferences. Sure we can state a few preferences when we drive by, but to save embarrassment of holding up a queue of cars I expect many consumers may prefer to simply stay away.
Here is where mobile wallets such as the TD Bank/PC Financial Ugo or Suretap, now preloaded on Rogers devices could come into their own, hopefully before Apple Pay captures market in Canada. Once you've ordered and paid with a mobile wallet, it should be quite easy to say "Same again", order ahead, pay as you please and get your burger where you please, when you please and how you please. The new processes could do so much more. And if it is your birthday, you may even be surprised with a little something special – picture that!
So perhaps come July the 1st, 2016 more people may be enjoying more of what they like, while still staying healthy and fit. Anyway, all this wishful thinking was just a prelude to wishing Happy Canada Day to all our friends north of the world's longest land border. I may not be able to share that burger with you (yet), but we can raise a glass of bubbly together!