Simply put, this is an important day for me. I would not have been around but for India's Independence followed 3 years on by our Republic Day, now in it's 68th glorious year. My Dad wanted to bring free kids into the world and only married once this was assured. Although I will never truly understand what it meant to the generation who made this happen for us in 1950, every year we celebrate this day is one more year India proves itself to be a land of miracles.
The sense of pride this day invokes in a billion+ hearts is hard to describe. Let me just say I am certain it evokes a certain energy and a sense of fulfilment in every Indian around the world. The sheer diversity across so many dimensions, including language, religion, tradition, occupation puts the most glorious patchwork quilt to shame. So it is truly admirable that India has won and held the mantle of largest democracy in the world over all these years.
But the amazing story of India begins way before 1000BC, making the Constitution of India a relatively recent development. The river Indus after which our country was named was home to Harappan and Mohenjo-Daro civilisations and our two epics, the Mahabarata and the Ramayana relate to events of the Epic Age which was followed by the Maurya, Gupta, Moguls and other transitions, each leaving a unique legacy.
British Rule seems miniscule in comparison to all that went before. The date for India' Republic Day was chosen to commemorate Purna Swaraj, the Declaration of Indian Independence on 26th January 1930. The Reserve Bank of India had already been established by 1935, and in 1938 we had the issue of the first Rupee banknotes shown below.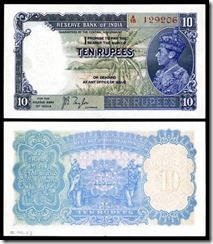 Thanks to the work of my father's generation, the Rupee soon received a makeover. My generation and those to follow would enjoy the sailboat, dam, Asoka, the space craft (in 1976), the Parliament House, Mahatma Gandhi and many agricultural images. There is a nice site I found that shows a Currency Gallery of India, worth going through as it speaks volumes on how the country developed.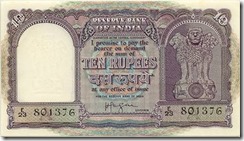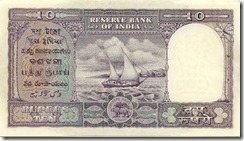 The Rupee had to wait until 2010 to gain it's symbol '₹'. An historic demonetisation of ₹500 and ₹1,000 was achieved in November 2016, with redesigned ₹500 notes and the new ₹2000 banknote put in circulation. This and other measures are required in the rebalancing as the great country that is India asserts herself on the world stage.
India has arguably achieved one of the highest rates of progress towards digital payments over the last year. Let us not fool ourselves, working towards achieving all of this has been hard work and will continue to be so. What we have to be grateful for is that all that has been achieved has been within a democratic framework. This is nothing short of a miracle and on this Republic Day we look forward to money supporting the population so effectively that it ceases to occupy so much importance and becomes just the catalyst we can take for granted, to support over a billion livelihoods and the huge future India has ahead of her.
Jai Hind!