Now that Apple Pay is here, how does it affect the projects in your pipeline? Which should you drop, where should you invest more and who should you look to partner next? We are at the cusp of the creation of a new ecosystem. But will Apple Pay fare better than Google Wallet did when it first launched in May 2011? There is a feeling of Déjà vu and Let's Wait and See. For Apple as well, Apple Watch was No. 1 – payments was No. 2.
So is this going to ignite NFC payments? How will things change? The short answer is I don't think anyone knows yet. We'll what are the mobile operators thinking now – we all know Verizon was not a cheer leader for the Google Wallet. What is PayPal thinking? What if Walmart does not come around?
Why is this important?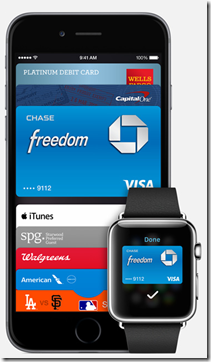 The major factor for any new payment service is adoption. So far adoption of NFC has been a 10-year war between the banks and the mobile operators and has struggled to gain traction.
Then in 2011 we had the entry of the Google wallet, and each of the card schemes with their own wallets. Still consumers and merchants failed to adopt. While contactless cards have gradually crept into use, paying by phone continues to prove elusive, for a variety of reasons, with one of the main ones claimed to be lack of handsets, customer security concerns and business model.
Apple has 800 million customers as "card on file". Additionally the API will be available to developers. Merchant support has already been announced: Integration with Uber, a food app from Panera, Major League Baseball's app to order tickets from your phone, and Open Table to pay your bill from your iPhone 6 or iPhone 6 Plus. Apple API to be offered in iOS 8 to allow app developers to integrate Apple Pay into their applications.
Apple has a following, so is not dependant on mobile operators to push their phones, however operator subsidies that could be as high as $500 help make them affordable. The rapid adoption of smartphones across the world has changed the balance of power. Certainly in the US, Apple is Top Dog as a smartphone manufacturer, with 42.1% OEM market share as of June 2014 according to comScore reports.
However while in the US and Europe Samsung and Apple dominate, the share of both providers has been dropping in emerging markets where we see a fragmentation emerging. In urban China, Xiaomi with its affordable RedMi model continues to go from strength to strength, securing a 27% share of smartphone sales in the second quarter of 2014, compared with 21.1% for Samsung. And payments by watch + iPhone cannot be a top priority for the masses in emerging markets.
Too little too late?
So far Apple was a late starter where contactless payments are concerned. Like a swan, the movement seemed to be more "under-water", as news of patents obtained for motion based payments got out in January 2013. Apple obtained a US Patent for a digital wallet and virtual currency. It described a system of managing credits via mobile device. Mobile users would be able to receive credits or coupons stored in their account. Check out Patently Apple for the whole background.
Back in June 2013 Apple released its first mobile commerce platform, called the iCloud Keychain: consumers could an store a variety of information, such as passwords and financial details for use across several Apple devices (Mac, iPhone or iPad) to log into websites or make purchases online. The platform did not support NFC and existed as an application rather than a physical device.
Earlier in June 2012, the Apple bar-code-based Passbook mobile wallet was launched, as a basic mobile wallet without payment functions, using barcodes to store and represent multiple boarding passes, store cards, and movie tickets. It had location-enabled alerts, and real-time updates and it displayed passes based on a specific time or location. When consumers walk into a participating shop the loyalty card appears and can be scanned to pay or check balance. It was expected that this could evolve into a mobile payment service by linking the Passbook to customer credit cards and iTunes accounts.
Effect on the Digital Money Game
Contactless payments that Apple Pay now propose to offer comes as a reinforcement