With us since times immemorial, Gold has proved to be one currency that has remained relatively stable despite turmoil in global financial markets. Universally accepted, and prized as a medium of exchange from ancient times, today it offers renewed appeal in the face of conditions and requirements from customer segments of different kinds. Yet new challenges that the world faces may pose new requirements in the way regulators look at the gold market.
The many and varying uses and facets of gold present a quandary for governments around the world when it comes to dealing with the opportunities and threats it presents. On the one hand, safeguards are essential to detect and prevent the use of gold as a tool for money laundering and terrorist financing. On the other hand, all around the world gold is intricately woven into culture and tradition in a way that transcends the value of the metal itself.
A delicate balance must be maintained to recognise the complex requirements presented due to the highly differing users and use cases. A wrong move could prove detrimental to a country, while wise management could present new opportunities at multiple levels of the ecosystem.
Instinctively governments realise that appropriate management could be a game-changer. Yet how does one go about it? Recent efforts of the Modi government in India to get the gold of the population into government approved schemes face insurmountable issues when it comes to requiring gold to be melted down first. The associations and value a woman may place for instance, on a much-loved heirloom make certain trinkets priceless – so what approach would work?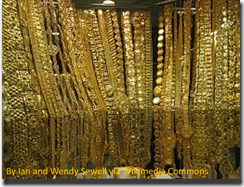 While it is imperative to respect the cultural use of gold, there are however potential links between the gold market and terrorist financing. As gold can be traded anonymously and transactions are difficult to trace and verify, cases have been uncovered that show how it is being used to place, layer and integrate illegitimate funds into the formal financial sector. Loopholes are present and may be exploited in a number of markets due to the differences in the way the gold market is regulated, for instance in terms of how cash-for-gold businesses are licensed and overseen.
Gold is covered by the Financial Action Task Force (FATF) under Recommendation 23, treating the gold sector as DNFBPs (Designated Non-Financial Businesses and Professions), but national policies must work together to create the global network that allows people to continue to enjoy the benefits while weeding out the unsavoury aspects of the gold market.
Over the coming months I will share more about my research into this fascinating topic – approaches that are being taken in different parts of the world, the changing position of gold as a currency and how it relates to money going digital, both in traditional ways as well as in terms of virtual currencies such as bitcoin.