Focus on India Series : Having recently completed our in-market analysis of the emerging payments market in India, I'm confident in saying the country represents one of the world's most complex, yet promising, battlefields for digital money. India is poised on the brink of a huge economic transformation and making money digital is a crucial part of the solution.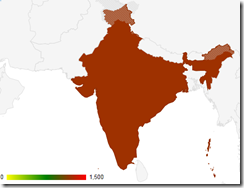 Digital money has a tremendous future in India, and I see a convergence of several factors that combine to create an unstoppable wave. Yet for this country of over a billion people, of which May 2014 World Bank estimates show 179.6 million live below the poverty line, money is going digital in a variety of ways and the savvy providers need to recognise this in order to make their business models work.
India's Demographic Dividend
Even when services are designed to appeal to the under-banked, providers cannot take their eyes off India's rapidly growing, massive and youthful middle class. Even if one assumes only 30% of the population of India's population of 1.2 billion is reachable, this is still a sizable 360 million, considerably larger than the 5.4 million population of Singapore and 7 million of Hong Kong, for instance. By 2015, India's middle class is expected to be in excess of 267 million. What is more interesting is the trajectory, as the size of the middle class (monthly household income ₹ 20,000-100,000) was a mere 25 million in 1996.
Precipitating Factors
I grew up in India, travelled around the country for the introduction of MICR and worked with RBI, SBI and several banks in India to help computerise different areas of banking, in my early work at Wipro and my own company Visionix. More recently I have personally visited the country to attempt to implement financial services since 2006. It was, to say the least, a test of endurance. However, many recent developments favour payments going non-cash and give me cause to believe that 2015 will be an important year for India.
Firstly, mobile penetration is remarkable and is aided by the September release of budget Android One smartphones that appeal to a highly price-sensitive market.
Secondly, a highly thrifty, large population desperately needs convenient ways to save and spend.
And, last but not least is the will of the government. The recent meeting between Mark Zuckerberg and Prime Minister Narendra Modi highlights the opportunity that digitally connecting remote villages presents to businesses around the world from a wide variety of perspectives.
Evidence on the ground
The cash-centric Indian economy is at last moving towards non-cash payments. By end of September 2014 more than 53 million new bank accounts were added in India to disburse benefits and social security to recipients. This is one example of initiatives from the Modi government, strongly backed by the Reserve Bank of India led by Governor Raghuram Rajan.
India's US$4 billion e-commerce market is set to soar to US$20 billion by 2020.2 E-commerce is being driven by cheap handsets and mobile data plans that enable consumers to buy from their increasingly smart mobile devices.
Born Digital Money
As in Africa, mobile money is poised to strongly support financial inclusion goals. But there is more.
In my book "The Digital Money Game" I describe how people expect a whole package of services across online, mobile, social and local situations, creating a multitrillion-dollar industry worldwide. India's market is a perfect example and consumers are demanding convergent financial services from the start, as opposed to the mobile-centric services that took off in Africa.
This requires, for instance, the ability to provide a service not just using mobile phones but through multiple channels and the ability to offer not just one service but many. Our research this year confirmed that this is needed to compete in emerging markets, and India is a prime example.
Reaching previously unreachable markets
Underpinning the non-cash transformation is Aadhaar, the world's largest biometrics project that goes across all segments of the population. This paves the way for middle-class consumers to make payments to their domestic help, for instance, while also using their new wallets to pay for higher-value airline tickets, goods and services. The rise of mobile Internet access aided by smartphone penetration is bringing young and highly connected shoppers online and is creating conditions for prepaid and digital wallets to thrive.
India's 1.25 billion people are spread across 29 states and seven union territories and, as a consequence, the complexity of the market has been likened to that of all the European markets put together. Marketing in this highly fragmented environment is challenging due to differences in regulations, income, religion and culture and, notably, the lack of government-issued identification. With just 58% of Indians registered at birth, it's no wonder that India is the largest user of cash among all emerging countries. With little to no ability to verify their identities, unsurprisingly, just 48% of people have access to bank accounts and traditional payment cards.
The emergence of Cash-on-Delivery (COD)
Around 20% of Indians have Internet access, so online sales have only just begun to grow, but the opportunity is immense, particularly as consumers look for ways to digitize cash. So far Indian consumers have not given up their reliance on cash to shop online. Instead, cash-on-delivery (COD)—a uniquely Indian phenomenon—has penetrated many urban markets. This involves consumers ordering online and paying for the goods when they're delivered, generally at home. Flipkart popularized this convenient way for consumers to shop online with confidence and without plastic cards, and the company has been rewarded with wave after wave of investment.
In pursuit of Cash-before-delivery
But launching truly digital money services requires that players connect the dots between the online and mobile worlds and the offline world. As the Indian e-commerce market matures, COD is giving way to CBD (cash-before-delivery). COD has caused some problems for e-commerce merchants because many consumers refuse to accept items on delivery, after the initial flush of an impulse buy has faded. To meet the demand of merchants and to fit into the increasingly mobile-centric consumer lifestyle of Indian consumers, mobile wallets and prepaid payment instruments have flooded the Indian market and challenged the prevailing COD model.
Connecting the dots
Our studies show that global e-commerce companies are busily pursuing their strategies to enter this nascent market and rub shoulders with the home-grown services, both categories of players must be mindful of competition from outside their immediate vision.
For e-commerce players, digital money solutions that incorporate CBD will be critical. The race is on between Amazon, Flipkart and Snapdeal. So far Amazon, which recently invested US$2 billion in India, spent this Diwali in hot pursuit of Flipkart consumers. Meanwhile Flipkart shut its payment gateway Payzippy within a year of launch and its recent acquisition, Ngpay, is expected to provide the next platform for its attempt to extend into digital money.
As what we term as a new "nationalised liberalisation" emerges and global players ramp up investment, taking advantage of new ease of doing business in India, Shift Thought offers a range of consulting services, research and portal access that offer timely and vital knowledge on how to navigate the still murky waters of building new brands in India.
Shift Thought offers a Navigation Guide
Recently released Shift Thought research explains why and how e-commerce strategies must evolve to compete in the new digital money industry. Our report provides facts and figures not just on the mobile wallet services that have been launched—and the unique way in which prepaid services are taking off—but on the whole set of services we term digital money. I believe that is the game that global providers will need to get right to capture the new opportunities presented by the Indian market.
Our Digital Money in India 2014 Viewport released this month explains how the competitive landscape is unfolding in India, with case studies of how providers are creating unique solutions, and this article is part of our Focus on India Series through which we share highlights of our research.
Whether you are interested in taking up the challenge of entering the market, or simply wanting to know more about what's happening, just drop us a line today at contact@shiftthought.com and we will be delighted to talk you through some of the key trends that affect you and the various options available through which we can help.
Join us to discuss this further and add your valuable comments at my post on LinkedIn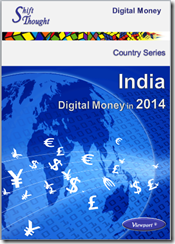 Some parts of the blog have been published in my blog "India's E-Commerce Boom Paves Way for Digital Money" on PAYbefore Op-Ed.
---