Shift Thought studies lead us to believe the Swiss Financial Services industry is on the cusp of the biggest transformation it has seen in 80 years. In this blog we share a bit about what leads us to this conclusion and our upcoming Free Webinar that we hope you will attend.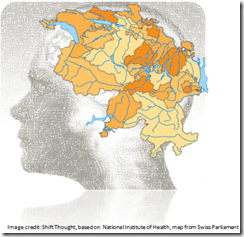 Over the years Switzerland has carved out a space for itself as a renowned country that exemplifies a unique system of Direct Democracy, precision and innovation.
A part of Europe, yet apart, it is currently seeking to define it's relationship as a major trading partner of the EU. This is now defined through a framework that consists of over 120 agreements. However, a Swiss vote calling for curbs on immigration led to EU restrictions and questions regarding a range of agreements based on Swiss commitment to free movement of people.
Recently found to be the most expensive country in the world, the high cost of living is often associated with the large number of super-rich foreigners who have made Switzerland their home. New rules for the super-rich must walk a tight-line between attracting foreigners and satisfying growing concerns from the locals.
To add to this, in recent times there has been intense pressure on Switzerland from the USA and India, to release information on their citizens who may seek to avoid paying tax back at home, and worse still, conceal assets that represent "black money".
Finance Minister P Chidambaram this month warned that India would take a position at the upcoming Global Forum, to call for more effective exchange of information. Earlier the US has brought action on some of the largest Swiss banks, relating to allegations regarding tax evasion activities by US citizens.
All this calls into question the well-established Swiss financial services model that has developed and evolved over the years, since the introduction of the legendary numbered bank account in 1934.

However, whilst pressure mounts on Switzerland, there is a simultaneous ground-swell of new payments products and services (NPPS) that we at Shift Thought continually study, as they evolve in each part of the world. I am just back from our market studies in India and Singapore. In the production of our reports on Singapore and Switzerland I have been continually struck by the parallels between the two countries. Emerging countries around the world present an opportunity and a threat for the Swiss Financial Services model.
And then there is Bitcoin. In thinking about Bitcoin, I am reminded of the song How do you solve a problem like Maria? from the evergreen movie The Sound of Music, where the von Trapp family hikes over the Alps into Switzerland and to freedom. Unfortunately the Bitcoin conundrum is not as easy for Switzerland to resolve.
All Digital Money is not Bitcoin, and Bitcoin is more than Digital Money
As innovative start-ups such as Monetas choose to make Switzerland their home, our upcoming Webinar touches on what the development of crypto currencies means for the country. We place this in the context of a wider set of new payments products and services and the opportunities and risks when providers create strategies around these.
I'd like to invite you to join us for a free webinar I will be conducting for UK Trade and Investment (UKTI) on Tuesday the 27th of May 2014, from 2:00 pm to 3:00 pm BST.
Register here : Digital Money: a new business model for Switzerland
I shall share some of our findings from our recent report on "Digital Money in Switzerland 2014" and our "Guide to Bitcoin and crypto-currencies 2014" . Read more at our previous post.