My title is based on my favourite book "Imagining India" by Nandan Nilekani. Though I now live in the UK, I am fortunate to be a global worker and when I analyse news on India it is always with fond affection for the country of my birth. As India celebrated its 66th Independence Day a few days ago, this blog series is dedicated to focussing on its achievements over the last decade and imagining where next for this amazing country.
Transformation at home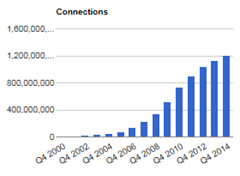 In the 1990s the Telecoms revolution opened the doors to a new level of progress for India. Entrepreneurs freed from shoddy fixed-line services today manage little empires from mobile offices based on a trusty cell phone, a less reliable pair of chappals and an occasional rickshaw ride. The figure shows the steep growth of mobile connections in this, the second most populous country in the world.
Now India has an opportunity to usher in the next revolution: based on Aadhaar identity, real-time money transfer across the length and breadth of the country, card payments through the RuPay domestic card scheme and mobile wallets that can be used to cut through layers of middle-men and go direct to the consumer. The mobile phone is truly evolving into an "office in a box", as it becomes a means of identification, information dissemination and payment. Digital payments are set to revitalise the domestic economy and create a strong impetus for the next stage of growth. At 60 million, the MSME sector of India is just getting started and reduction of friction in payments will grease the wheels.
It is not gold but cashless payments that holds the key to India's future. Money going digital is the solution that is needed to control black money and stop the flight of capital. As the need for cash payments reduces it will be so much easier to eradicate behaviour that destroys the very fabric on which poverty reduction measures rest.
Transformation abroad
As I write this Wipro has just been named amongst the top 3 in the 2013 Global Outsourcing 100 list. The list ranks companies on parameters including customer experience, global presence and competencies. In the 1980s I am proud to have been a part of the revolution as Wipro led by Azim Premji (my first employer) along with Infosys (Narayan Murthy, Nandan Nilekani), Tatas and countless others set out to prove that a power cut or two could not stand in the way of a good nation turning itself into the IT Centre of the world.
I believe prerequisite conditions now exist for Indian entrepreneurs to craft a new success story. This story will build on past successes, using technology to create innovative digital money solutions for the world, just as India did in the space of Information Technology.
Can India make payments cheaper, faster and more secure by injecting low cost value added services and payment platforms into payment chains for the new online "global customers"? There are many factors to support this. In my next blog I expect to touch on the many recent changes that perfectly poise the country to capitalise on new payments, at home and abroad.