Samsung announced their Q3 2014 earnings shows a substantial Q-on-Q decrease due to decline in their mobile business caused by intense competition in the smartphone market. Further to my post on How Apple play affects the Digital Money Game, as China Mobile starts to eliminate $2 billion smartphone subsidies, the cost of high-end devices is impacted and affects both Samsung and Apple, benefiting low-cost manufacturers like Xiaomi.
Headquartered in South Korea, The Samsung Group operates through over 150 subsidiaries, including 73 domestic affiliates as of June 2014, having been first established through Samsung Electronics Industry Co. Ltd back in January 1969. The company manages 3 divisions: CE (Consumer Electronics), IM (Information Technology & Mobile Communications) and DS (Device Solutions.
Anticipating consumer desire to interact with the Internet, Samsung focused early on smart TV sales, leading the market in 2011 with the launch of smart TVs and hub-based apps.
In 2014 the mobile phone market is expected to reach 1.8 billion units, with 1.2 billion of them being smartphones – this represents a growth of 7% since 2013. However Fitch Rating expects Samsung shipments during the period to remain flat.
Samsung has maintained a No. 1 position in the smartphone global market, with strong take up of the Galaxy S series and the Galaxy Note. However with Apple's release of iPhone 6 (4.7") and iPhone 6 Plus (5.5") compared to the previous 4" models, these phones now represent a substantial threat. Low cost Xiaomi (low-cost devices) was already resulting in tough competition, especially across the Asia Pacific region. The figure below shows the impact on first half performance in 2014.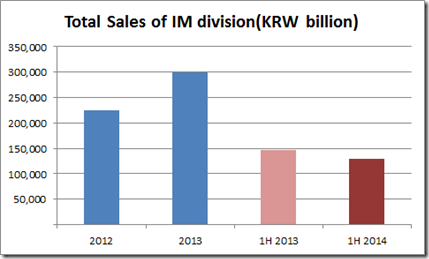 Samsung's share in the global smartphone market dropped from 31% in 2013 to 25% in H1 2014. They announced mid to low-end shipments were down due to weak demand in the EU and lower 3G demand coupled with intensified price competition in China.
Samsung expect that in the second half of 2014, strong seasonality will help to boost smartphone and tablet demand. At the high-end, they expect growth to be led by TD-LTE expansion in China and lower inventory level in Europe. At the mid to low end they expect growth led by emerging markets, and this is where we are likely to see the competition heating up with new product launches expected.
Meanwhile Samsung Electronics plans to build a $14.7 billion semiconductor plant south of Seoul, in an attempt to make up for touch competitive pressure on its smartphones with new growth in its most profitable semiconductor division.