As I report that Amazon has been making further inroads into the UK online shopping market, I realise it is probably an under-statement. As it was our go-to provider long before the holiday season it is no wonder we got most of our gifts from them, availing of the great selection of offers during November/December. Free home delivery, the peace-of-mind from trouble-free returns and refunds and a most reliable service has made Amazon the darling of many Brits over the recent past, as can be seen from the volume of reviews pouring into the site.
I was interested therefore to notice today that their "Subscribe&Save" offer earlier launched in the US is now available in UK. The offer claims to provide regular users the ability to save up to 15% as well as gain free shipping on recurring deliveries. To me this seems to be yet another step in the evolution of Amazon from book supplier to online provider of the first resort. For UK shoppers who are now spoilt for choice of online retailer with most grocery stores offering great home delivery options, this appears to be designed to tempt us away, for purchases of a wide range of household shopping items, of which a vast array has now appeared on the site. With its legendary knack of mind-reading Amazon quickly suggested a few items that I had already bought on a number of occasions, while I was checking out the offer.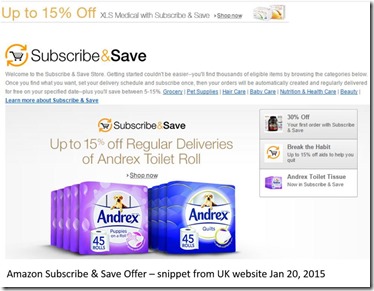 I must admit this looks promising but also from my past experience from launching digital content services in the UK, I recall the "Crazy Frog" incident where junior mobile subscribers unwittingly found themselves with costly subscriptions, I am sure there could be a number of issues that must be navigated by the marketing team to ensure that people don't end up with deliveries they did not expect and suppliers don't have to contend with higher levels of refund.
Within an overall great experience, I found one particularly irritating feature. Introduced over 2015, their "Add 0.01 p to get free home delivery" never fail to irritate our household, and probably a lot of UK online shoppers. A number of desirable products are priced at £19.99 (Why?). However, one needs £20 of "applicable items" for home delivery and finding out what is applicable is quite a chore. For people who would like to save around£4 delivery cost this means a thankless job of looking through "Add-on items". The concept of Add-on is itself an admirable one as it is a way for sellers to offer small items online. However, believe me it can be most irritating to find an item that qualifies for the 0.01p required, heave a sigh of release and lug it into your online basket only to find that it's not made your delivery cost go away.
Not to mention the additional time you are forced to spend trying to save money on Amazon must come with a health warning as one can end up buying so much more than one planned – the shopping experience is so slick that it can be quite addictive! I think the same will soon be said of a number of the online stores that are burgeoning in the UK market, and as a delighted consumer I am not complaining (yet?).
PS: For full disclosure, I am not connected with Amazon in any way, apart from being a shopper and a passionate observer of the way money is going digital, to power payments and commerce around the world.