This summer Barclays is promoting their PayBand contactless payment in the UK through a marketing campaign that directly targets segments that are most likely to appreciate the convenience, in the ambience of the British summer festivals. This wearable prepaid device is free and available even to consumers without Barclaycards, and it will not activate for transactions over £20.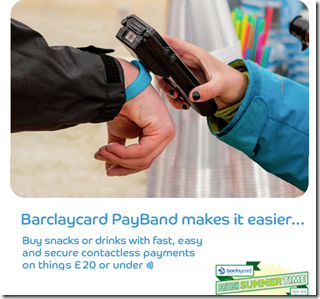 PayBand made it's debut at music festivals in the UK last year. It can be used to make contactless purchases of up to £20 at UK retailers accepting Mastercard PayPass contactless payments. The service neatly sidesteps issues regarding potential misuse, firstly in the manner of presentation (it may be a little obvious using a bright blue band to launder money), but also through limits - the maximum balance you can have is £200, and consumers are not able to load and spend more than £500 during the lifetime of a PayBand.
This summer it is being heavily promoted as a cool way to pay for food and drink at UK festivals at Barclaycard presents British Summer Time (BBST) in Hyde Park on 5-14 July 2013.
Considering all the firsts from Barclays: The first UK credit card on 29th June 1966, the first UK debit card in 1987, Pingit launched in February 2012 - it seems to me that Barclays is well placed to usher in this payment trend, right here in the UK. All the work put in through NFC trials since 2007, commercial roll-out of contactless cards in UK and more has prepared the stage for the bright blue band to earn its place as a favourite memory that people will look back to in years to come.
UK awareness of contactless payments has doubled as per the latest study, with over 53% having used their mobile to make a contactless payment purchase, compared to 47% last year.