In this guest post Raihan Alhusain, Head of mCommerce Operations, Airtel Bangladesh provides unique insights and practitioner experiences of the tremendous work in progress in Bangladesh. What strikes me from my interview with Raihan and the experiences he has shared is that the consumer is truly placed at the centre when mobile operators and banks come together in an earnest attempt to leverage the best strengths of each partner.
The early days of BillPay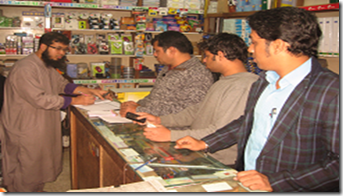 The story of Mobile Banking in Bangladesh starts in December 2006 with the launch of BillPay by a Mobile Network Operator (MNO). I was a part of the team that launched the service. We started everything from scratch, designing the financial operation process, the product, reconciliation and payment process. When BillPay became available across the country I felt that I was blessed, I felt that I was doing something good for my country and for the people. Until now, whenever I see the BillPay sign I feel the pride of launching the service in Bangladesh.
In the early days, customer education and customer trust were the biggest challenges for my team. The service was launched in Chittagong and soon started to create interest amongst the customers. Customers were most attracted by the convenience. At one point in time, people in the Chittagong region were able to pay water, electricity and gas bills through the BillPay platform.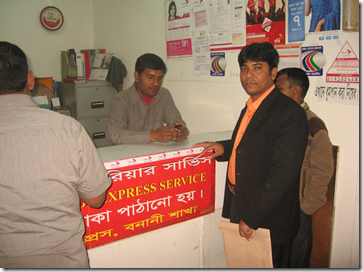 BillPay used two models, one with 100% validation of data and the other with zero validation of data. The utility company, having automated billing and payment data mainly used the validated system of BillPay. This means whenever customer paid a bill of a specific month, the billing data used to get verified through the utility company billing server and after the payment was made, the payment data was also verified and posted automatically.
What didn't go well though was the need for manual posting of BillPay data. For some of the utility companies, posting of payment data was totally manual and MNOs had to send paper based payment data to the decentralized offices of the utility company. This process required manual intervention and extensive man-hours to post data.
Then came Railway Ticketing. The same MNO launched the service under a new name. This created another option for BillPay wallet customers. They were able to not only pay electricity, gas and water bills but also to pay for their railway ticketing. This removed the hassle of manual processing of railway ticket payments and added another milestone to the automated payment system in Bangladesh. However, mobile banking through the BillPay platform offered the payment services and fund deposit (Cash in) only. Cash Out was not available.
MFS Guidelines arrive
In 2011 the MFS Guidelines took complete shape and were published by the Bangladesh Bank – a bank-led Branchless Banking model was introduced. One of the major local banks first launched the complete mobile banking facility allowing customers to withdraw cash from the authorized outlets of the bank and also through ATM.
This model was agent initiated. That means most of the revenue generating transactions were initiated through the agent wallet. DBBL signed an agreement with several telcos to ensure the availability of mobile banking at their networks. Since this model was agent initiated, the agreements with telcos also ensured Telco Agent networks could be used for Mobile Banking.
What went well in this model was the Trust Factor. Mobile banking with a bank added more trust in the mind of customers. What did not go well was the channel/ distribution model they used. Initially all the agents belonging to them were directly connected to their Bank Branches. This means an agent had to go all the way to branches for mobile banking (Cash in and Out from agent wallets).
The learning continues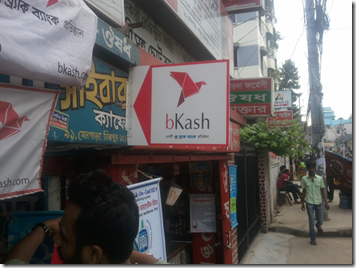 Shortly after this a subsidiary of another SME based local bank launched their service. Their model was completely customer initiated. All they needed to do, was to sign up with the MNO for access through USSD. They did not depend on the Telco agent to expand their channel reach.
They came up with a distribution channel structure similar to that of the MNO. What went well for them was their expertise in running an effective channel and their strategy towards establishment of their Brand. Their brand achieved more prominence than the other brands in the country. They also signed an agreement with several telcos that ensures the availability of their services across networks.
Both the players ensured the availability of the mobile banking services through the USSD network. The success of this partnership depended on several initiatives taken by both bank and telco partners. Initiatives such as B2B (Channel Payment), P2B (Merchant Solution), B2P (Salary Disbursement, Micro Credit Disbursement), G2P (Government Allowance Payment) brought ease in the life of customers, increased revenue for the Banking Partners as well as ensured stickiness to the MNO SIMs.
Mobile banking goes mainstream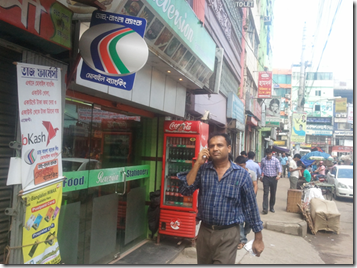 According to Bangladesh Bank sources, 17 banks now offer mobile financial services (MFS) within just three years. Mainstream PCBs (private commercial banks) now provide services. For instance, we have Brac Bank's bKash, DBBL mobile banking, IBBL MCash, the Prime Bank Easy Cash and more. The number of mobile banking accounts is about 7.21 million with about 0.108 million agents countrywide. The volume of transaction was $1,030 million in the first quarter of 2013. Significant achievements indeed!
Personally this has been an exciting journey for me as I look back and compare what our services could do for customers with just BillPay, and what we can now do for unbanked customers. This makes every experience precious, and justifies all the hard work from our regulators and people across all the different industries.
About the Author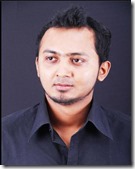 Ruhullah Raihan Alhusain is a professional with over 9 years of experience in Mobile Banking. He graduated from the University of Texas at Arlington with an Honors Bachelor in Business Administration. He started his career in mCommerce in Bangladesh with Grameenphone Ltd., a Telenor ASA. Today as Head of mCommerce Operations at Airtel Bangladesh Raihan continues to passionately build and launch specialised products in co-operation with DBBL. Recent projects include micro credit disbursement through mobile banking, airtime sales proceeds collection, mobile banking through modern trade such as ACI Swapno and mobile top-up with bKash.