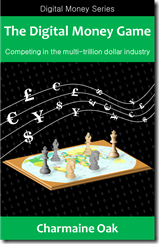 I have great pleasure in announcing the launch of my new book, The Digital Money Game. I describe the multi-trillion dollar emerging industry I term "Digital Money" from the perspective of very many different industries. It is not just meant for payment experts in large organisations, but for anyone who wants to understand how people pay, and how this is changing in each part of the world.
The penetration of mobile phones and smartphones is transforming the way in which consumers interact with brands and greatly facilitates a move towards non-cash payments around the world. To play the game properly though, one needs to understand the changes in a much wider set of fundamentals - identity, security, authentication, regulations, technologies and more, so as to create appropriate vision that goes across channels, services and market segments. That way you have a more effective roadmap with respect to new entrants, and a better chance that what you plan now will still be relevant when your projects go live. I share more about why I wrote The Digital Money Game here.
The book is based on Shift Thought research in markets around the world, and my interviews with experts from all the different industries that now participate in payments and financial services. I did my first set of interviews in July 2011. Four years later, the wisdom that they, and countless others shared with me has helped to shape this book. This is the first book in The Digital Money Series and we are currently working on others in the series.
Since then I have learnt so much from so many conversations that unfortunately it is impossible to thank each one of you by name – I hope you will recognize your contributions when you read the book!
The book is designed to help you to spot opportunities and gain confidence and insights to channel your work in a way that benefits you, and the markets you serve. It addresses multiple functional areas and levels: Chief Executives, Technologists, Business Development, Market Development and Product Development executives from Banking, Cards, Money Transfer, Telecoms, Payments, Technology, Retail, and Venture Financing Industries.
The digital money approach described in this book can help you create products and services that are secure, convenient and empowering to a whole range of consumers and merchants, across a variety of channels. The goal is to create a shift in thinking – from merely addressing the new opportunity provided by mobile phones, to launching holistic services that build solid brands.
My book is available on Amazon stores around the world, priced in local currency and immediately accessible as an Amazon Kindle download that works across Kindle for PC and a host of commonly used devices. In case it says "Pricing information not available" just look to the right of the screen to select the Amazon site in your country.
In the first 2 days that the book has been available I am delighted to say that it has already been bought from many countries around the world. Thank you so very much for your support and kind words.
Have you bought my book? I would love to have your feedback and can direct you to further resources that may be of interest. Do drop me a line at contact@shiftthought.com.